Potpourri of Planning!
Three things.
First, I'll start with the most exciting! We booked our hotel for the honeymoon in New York City! We'll be staying four days and three nights at the Park 79 hotel in the Upper West Side; next door to Central Park and the Natural History Museum!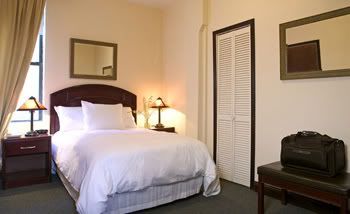 We already have reservations for the Comedy Cellar, are looking into tickets for "Tony n Tina's Wedding" and have put in a request for Daily Show tickets. Then there will be the other fun things... a carriage ride through Central Park, going to the top of the Empire State Building, amazing dinners around Manhattan. I. Cannot. Wait.
Secondly, I've finally decided against a veil. But I want to do something with my hair! My hair is a bit above shoulder length, plus I usually have side swept bangs. (Right now they're a little grown out. I so need a haircut.) I've been looking at cute headbands to wear. Here are some of the ones I've found:
[CLICK PICTURES TO BE TAKEN TO THEIR PAGES ON ETSY]
Third, I've been doing some thinking about the decor for our reception... For reference, here's the main room we will be using. It will not be set up as shown. There will be floor space for dancing, moving about, etc.
It's the top floor of the Fish Market on King Street, in Old Town. (We'll have the other room, as well.)
We're going to have white linens on the tables, of course. And, irony of all ironies, I showed off hanging poms in my last post as examples of decor:
[CLICK PICTURE FOR ETSY SELLING PAGE]
Oh, the irony is that I mentioned that they would not work for a wedding like mine... well, until I decided I wanted them. So we're going to be getting a bunch of them in all red or red and brown to hang from the ceiling.
I also found some inspiration for our wedding centerpieces, which are going to be very simple. The design is based off of this:
This shot is from the wedding of
Amber
, who has brilliant taste in design and color.
See the cute daisies in the mason jar? Patrick and I decided that we wanted to do something similar. As our colors are red, brown, and white, we're going to do RED Gerbera daisies instead of the pink pictured. In addition, we're going to cluster two or three jars and flowers for each centerpiece.
But we're not just going to do jars. We're going to start collecting jars and unique bottles to cluster at each table, to give it a punch of color.
Hope you're all enjoying your President's Day!
Labels: centerpieces, etsy, Flowers, headbands, headpieces, honeymoon, new york city, venue