A Change in Plans?
M and I had always planned on having a formal reception. In the one year and three months since we got engaged, I pictured nothing but peonies and sweetpeas, chairs covered in white with pink sashes, and all the typical wedding details. But when M and I first walked into
Pinzimini
, our favorite little restaurant in the Westin in Ballston, we started second-thinking our plans. Immediately, I wanted to know whether they hosted wedding receptions. Unfortunately, back then, there was no one to answer my questions and wedding planning took a back seat to other things such as the recent tragedy in my family.
Unbeknownst to my family, Michael had already taken vows in a Christian ceremony in Turks & Caicos (TCI), which I plan to post on soon, as I have some great tips on the island and resources for anyone planning a destination wedding. Nevertheless, we still wanted to celebrate our legal union with family and friends and have a "traditional" wedding. I am Italian-American. Needless to say, my family would KILL me if we didn't have a formal ceremony and celebration. Although I'm sure our 4 days in TCI could not compare to anything, I know that the little girl in me would not be satisfied until I got to walk down the aisle wearing the white gown and veil I'd dreamed of all my life in front of the people who've meant the most to me all my life.
In any case, my thoughts of big floral arrangements and quaint ballrooms faded when we first set eyes on Pinzimini. It was more "us" than anyplace we'd ever dined at. It is an Italian steakhouse drenched in candlelight and bears no resemblance to any tired ballroom we'd been considering. This is not to say all ballrooms are tired. We are only having about 50-60 guests and so our options were very limited. Pinzimini holds about 120 people (from what their website says) and reminds me of the Italian restaurants I grew up eating in all my life in NY, only this is modern and edgy and PERFECT for my purposes. If you don't believe me, take a look and bear in mind that
the picture
does it no justice.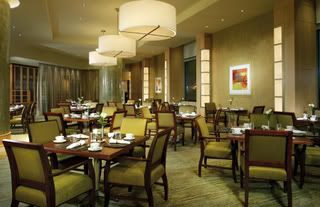 So you can imagine how thrilled I was when I heard back from the events manager at Pinzimini and learned that we could indeed have our receptions there on August 11, the one year anniversary of our TCI ceremony.
Nothing is set in stone yet but we are working with the staff to find something within our meager budget. The only problem is that this throws a monkey wrench into all the plans I'd solidified in my mind in the time leading up to this. I cannot picture
my Marissa lace princess cut gown
with the (modified) sweet heart neckline coordinating with this room. Fortunately, I haven't purchased it but I've been visiting it since last January and haven't found anything that fit me as well since.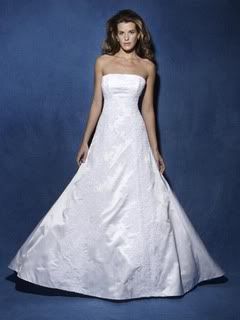 When I look at this room I picture something edgy and modern. I don't see peonies. I see calla lilies.
Labels: planning rants, unique wedding locations