Save the Dates...the design
In my last post, I talked about my decision to make the save-the-dates myself. I don't think it'll be too hard and with Microsoft Publisher, designing them hasn't been too difficult.
I haven't really started, I still have to design the cardstock, but I figured I'd give you all a hint of what they're going to look like. Last night, after talking to the FMIL, I told Fiancé exactly what my plans are. I figure, we're going on a date on Saturday up to Georgetown so it's a perfect opportunity to scour out some supplies.
The magnet, will look like this: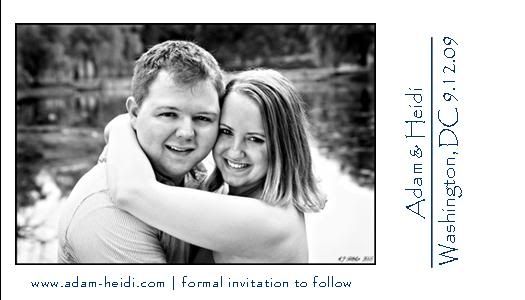 It will be attached to a piece of white card stock, with a thin green border, wording on it, and a ribbon holding it all together. The envelopes will be navy with green lining, a white label that will be hand written by moi. I don't always have the neatest handwriting, but it's much neater than Fiancé's chicken scratch and I can make it look pretty if I try.
Where'd I get my inspiration you ask?
Here's the save the date
that I found on the web that I really liked, but figured it was simple enough that I could replicate and add a touch of my own style.
Here's the weddingbee post
where I got the inspiration for the ribbon and the envelopes.
It's all coming together, hopefully they'll be done by the beginning of December so that after the holidays they'll be ready to be sent out! Fret not nearlyweds, I'll share the steps as I go along. I should also mention that the FMIL recently acquired a Wedding DIY book from a friend, she's sending it on to me. Woo hoo!!
Labels: DIY, Miss Gallery Place, Save the Dates