A Better Idea?
After many sleepless nights, including last night, agonizing over the details of the bridesmaids gowns, I'm faced this morning with another alternative. While visiting a local bridal store with one of my bridesmaids, I saw up close the dress I've passed and gazed at lovingly for months in the store window. I had looked at it with disappointment all those times I'd passed it because my sister, the MOH, had told me countless times that she did not want to wear a tea length gown. I had myself been convinced that only a floor length gown would do. That was until I sent her the picture of this champagne gown and told her how I had seen a girl wearing ivory shoes that would compliment it wonderfully, if only I could find out what they were. Never did I expect that she would respond so enthusiastically... about the gown.. in BLACK.
Can black work for bridesmaids? It certainly would look very nice with the tuxedos, I reasoned. Then I found the shoes I'd seen in the store on the stranger... in that exact hue.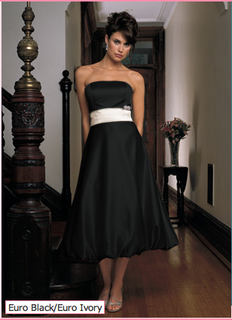 They really do seem to be a match made in heaven. They are certainly (both) re-wearable. Have I changed my mind? Have I finally decided on an ensemble I can commit to?
We shall see!!