Annika Soremstan Will Wed.
Photo by: Scott Halleran/ Getty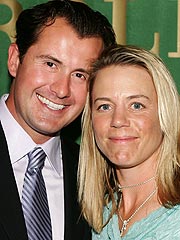 The 36-year-old Sorenstam is engaged to boyfriend of two years, Mike McGee.
No date is set for the wedding, which will be the second for Sorenstam. She filed for divorce from first husband David Esch in February 2005.
McGee, once a top college pitcher, now works as managing director of the "Annika" business brand, which includes clothing, golf course design and a golf academy.