More Marriages from People
You're Married! Apprentice Bill Rancic Weds E! News Anchor
Photo by: Kusha Alagband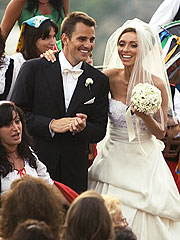 The first
Apprentice
winner Bill Rancic married
E! News
anchor Giuliana DePandi on Saturday on the Italian island of Capri.
Rancic, 36, and the Napoli-born DePandi, 32, exchanged vows at the end of a church aisle strewn with white rose petals and dotted with white candles.
The couple, who
got engaged
last December, had a traditional Catholic ceremony, in both Italian and English, delivered by Rancic's family priest from his childhood growing up in the Chicago area.
"This is the real deal," says Rancic, who has attended church every Sunday with DePandi since the two became serious, "so we wanted a very old school, full Catholic mass."
DePandi wore a white, strapless and beaded Monique Lhuillier dress and veil especially designed for her, and Rancic wore a white tie and black tuxedo custom-tailored by the bride's father, who owns a high-end men's clothing store in Maryland.
DePandi's sister, Monica, was maid of honor and Rancic's "honorary" best man was his late father.
"I lost my father several years back and he's the honorary best man," says Rancic, "we'll have a candle up there as a tribute to him."
After the ceremony, the couple arranged for buses to take the 190 guests to Capri's center piazza, where dozens of Neapolitan dancers were to sing and dance alongside the guests as they walked in a group, led by the bride and groom, to the reception at the Grand Hotel Quisisana.
The menu included local Southern Italian fare – prosciutto and two pasta dishes – followed by a vanilla and cream wedding cake decorated with red rose petals flown in from Holland.
Missing in action at the wedding was Rancic's former boss, Donald Trump. "His schedule didn't allow it," says Rancic.
As for the honeymoon, the couple will have to wait.
"We both have to get back to work," says DePandi. "Bill has a new show on iVillage that starts Sept 17th and I've got the Emmy's on the 16th."