Usher and Tameka Wed AGAIN a la People
Usher & Tameka Foster Finally Get a Wedding
Photo by: Jemal Countess / WireImage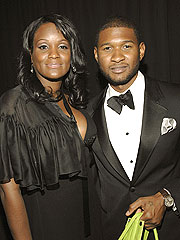 After a quiet civil ceremony, Usher and Tameka Foster at last pulled off their dream wedding in Atlanta on Saturday.
"I'm thrilled that this is finally happening," said one guest, who watched the couple exchange vows in front of about 200 people at the luxurious Chateau Elan Winery & Resort, a 16th-century-style French chateau set on 3,500 acres of rolling hills outside Atlanta. "It was a long time coming, and I can't think of any two people who deserve happiness more than they do."
Among the guests were Jermaine Dupri and Janet Jackson, Mariah Carey, Jay-Z, Nelly, Ashanti and Anita Baker, says a source.
Usher's mother, Jonetta Patton, who has reportedly clashed with Foster, did not attend.
The guests enjoyed a sit-down dinner inside the resort's ballroom. Dessert was a five-tiered white chocolate-covered wedding cake with handmade flowers by Napa's Perfect Endings, who recently did Eva Longoria's wedding cake.
"They are in love and they wanted this to be perfect," says another guest of the event, planned by wedding planner Diann Valentine. "They had their reasons for not getting married (before), and that's their own business. Now they could get things done the way they wanted to, their family and friends can be here now."
The couple originally planned to tie the knot at a lavish no-expenses-spared event at music mogul L.A. Reid's Sagaponack, N.Y., home, but the ceremony was postponed at the last minute.
The civil ceremony between Usher (full name: Usher Raymond), 28, and Foster, 37, was reportedly held in his lawyer's office Aug. 3. The couple are expecting their first child this fall. This is Usher's first marriage, Foster's second.
• Reporting by STEVE HELLING