Bridesmaids Dresses - decisions decisions
I'm having a problem with my bridal party. Well not a problem with them, but a problem that they're all so far away. You see, Big Sister is in Vermont, she's my ah-hem "maid of honor" (don't get me started), and the rest of my bridal party is in Boston - Mr. GP's lil sister and my two bff's from college.
I've been looking at a variety of dresses - I'm looking for tea length or cocktail length, something that's wearable again, and either navy or a cloverish green.
Some of my favorites so far?
J Crew Rebecca Dress
in Deep Atlantic
J Crew Sophia Dress
in Deep Atlantic
David's Bridal
short halter dress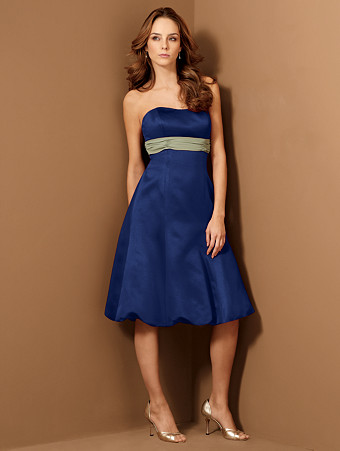 Alfred Angelo strapless dress
- navy with clover sash
Unfortunately, most of these dresses are only available online and the alfred angelo ones I like are all strapless and most of my girls don't like strapless. I don't want to make them wear something they don't like so ixnay on the strapless...eh?

The thing that I like most about these dresses: J Crew dresses look versatile, a dress I know my girls could wear again. They're also relatively affordable. Unfortunately they're only available online so I have no idea what size they'd be - not that's my problem to order their dresses but still.

David's bridal dresses are also affordable, they have my colors, and I like that you can add sashes, and a skirt so that you can see, say green, at the hem or the bust. I like that. I don't like that most of their dresses are long, and I'm still bitter after my last experience at DB which was just as bad as the first. Not that my gals would be shopping down here but I don't even know where the nearest David's is to Boston...though I'm sure it's not far.

Finally, with the Alfred Angelo dresses they're super cute, affordable, and they have great colors with the mix and match effect that I really like. Unfortunately, again with the "where can I find these dresses for my girls near Boston/Burlington," most of the AA dresses I like are strapless and I have no idea how they'd look with the spaghetti straps. Though I'm sure they'd look fine and would give my gals a good option between straps and strapless if they so choose. Though I'd prefer the uniformity I suppose I can't be Bridezill about little spaghetti straps.

So now that my dress is all ordered, I can't spend all my days looking for shoes for me (that's a whole separate post! Let's just say...I know what I want. And can not find it. For the life of me. *sigh*) so before I head up to Boston this winter to meet up with my gals and take them to a lil Bridesmaids luncheon thing, I want to have a good idea the options I plan on giving them. Hmmmm, decisions, decisions. I NEED INPUT! I should probably email my gals about this shouldn't I?

On top of all these decisions, I also have a junior bridesmaid and I haven't even started considering her - my 12 year old cousin who within the next year will surely be taller than I. Sad I know.

Gah! Decisions, decisions!

Any other suggestions where to look for bridesmaids dresses? (I saw a website with cute dresses but I think I forgot to bookmark it...D'oh!) Any pros/cons of the above that I missed?

[images from jcrew.com, davidsbridal.com, alfredangelo.com]

Labels: Bridesmaids, Miss Gallery Place