"Posh" Invitations
Just like any bride, I was in desperate need of great invitations.  With some brides, they pretty much have rights over all decisions made.  As Jennifer Lopez said about grooms in "The Wedding Planner"-- "NIDs... Not Into Details".
What's been fun about this process is that Mr. JeffMemorial, while he still isn't as into planning as I am, really has an opinion about our colors, what we do, etc.  Not only that but he has good taste; a stellar combination.
This makes decision-making when it comes to the wedding a bit more of a compromise.  Not that I mind!
When it came to invitations, however, it took awhile for us to find a designer and a design that we both liked.  There were many nights, huddled around  a laptop where one of us would really take to an invitation set, and the other would hate it, thinking it was "the most effing hideous thing ever".
Then we found
PoshBetty.com.
I was immediately infatuated with its retro chic niche, with throwback styles ranging from leopard print to classic flourishes.  Some are kitschy, some are classy.  Some find that delicate balance in between.
On top of that the prices are really reasonable.
With our colors being black, apple red, and white we were taken with some of the designs, but they didn't match our scheme.  Not a worry in the world!  Most of the designs can be customized to meet your needs.
Now the proofing process was absolutely great.  The designer (Shellie) was just so wonderful, tweeking and adjusting, as I got hung up on shades of red. (God, I never thought I'd do that. I'm still ashamed.)  Not only that but the proofing process is free and without any commitment, which was good for us since we were still looking around, making sure this was exactly what we wanted.
Here is how they turned out!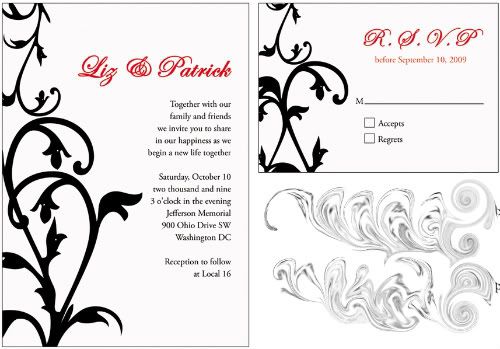 I couldn't be more pleased. (Pardon the swirls, but the world does not need to know our address, heh.)  
Now I cannot wait to order them.  I know they're going to be stunning.  They're fun, but classy.  They look lovely, but they err on the side of informal, which is exactly what we wanted.  
Highly recommended so far.  They also have other products at the website, including party invitations, engagement announcements, t-shirts and other goodies!
Check it out. 
Labels: custom invitations, Miss JeffMemorial, Posh Betty