"Don't forget to use the accessories wall, designers!" --Tim Gunn, Project Runway
Last night, I decided to take a break from all the coverage of the impending SNOMG (snomfg, snowpocalypse, snogasm) that will be descending upon our area today to catch up with this season of
Project Runway
! Bless you, DVR. Bless you.
In addition to being a local alum (that's right, gals, he went to our area's very own JMU!), we all know that Tim Gunn is all that is style and fashion. And what does he always say, other than "Make it work!" of course? Accessorize, because accessories can make or break an outfit.
And he's right. My philosophy has always been about accessories. I'm not the biggest fashion maven in the world (an understatement), but I love handbags, shoes, and jewelry. And given that I'm wearing something a bit non-traditional for my wedding dress...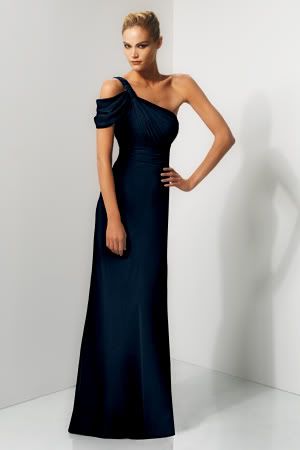 To find out the backstory (and see more of the detailing) on this dress, click here. As a note, though, it's navy blue, and it's not as dark is it appears on screen.


...accessories are going to be pivotal. I already have two of what I consider to be my Major Player Accessories: shoes and handbag!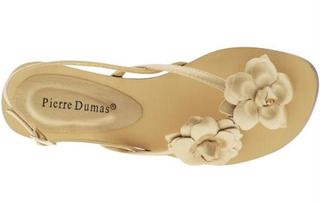 I spent many many hours over almost as many weeks searching for the right shoe to go with my outfit. I knew I wanted a nice gold shoe, but I had limitations. As I mentioned before, I am a whopping six feet tall. Mr. JeffM is about 6'2", so our limited height difference and, honestly, my complete lack of any motor skills or coordination precludes me from wearing anything other than a flat shoe. I had also decided that I wanted to wear a dressy sandal. The dress I chose has a lot of movement, as it is made from a flowing fabric, so I wanted shoes that were feminine but with a little more of a "take it easy" attitude.
I honestly thought I would never find them. After awhile, it got very frustrating. I would get shoe envy (of all things!) for people who could wear those gorgeous heels with the ribbons, bows, flowers, and other fun embellishments. It seemed like the fashion industry just didn't care about cute flats... or if they did, they cost in excess of $400, which is a hair out of my price range. I scoured Zappos, DSW, Piperlime, eBay, Nine West, Aldo, Steve Madden.... all countless times over. I was about to throw my hands up in the air when I decided to try Piperlime one last time. And there they were. Waiting for me. In my size!
Finding this gem of a handbag was a little bit easier. (I will say one note about the photo: the background isn't yellow like it comes across in this picture; it's more of a muted creamy gold. In fact the bag appears a lot more WOW YELLOW GOLD than it actually is.) For years I've lusted after the handmade clutches on Etsy, and finally I had an excuse to buy one. I was looking for something that had more of a bold design, aside from your standard bows, ruffles, and flowers. In design, I love bold lines and distinctive patterns, and this fit the bill perfectly.
About a week and a half after placing my order, this beauty arrived in a box on our front doorstep. The quality was out of this world. The silks used, and the stitching is just, for lack of a better word, divine. (I always feel so cheesy saying "divine," like I should be on
Dynasty
, wearing shoulder pads, and slapping someone.) Even Mr. JeffM was impressed, and he's not an accessories kind of guy.
The only thing I'm struggling with is jewelry. After some helpful hints from friends, I'm forgoing a necklace, as it will "only detract from the drama of the dress' neckline," but I am on the lookout for earrings and a nice bracelet. So far I do have a front runner for earrings.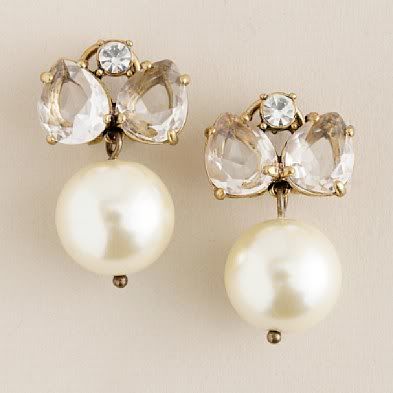 These beauties are from J Crew. I love them, but I'm not entirely sold on them. I'm going to go to J Crew in person soon to see how they look against some of my accessories.
So far jewelry is proving to be the biggest challenge. I actually ordered an earring and bracelet set not too long ago, and while they are beautiful, they aren't exactly quite right. And I hate that! I hate that whole, "I don't know what I'm looking for, but I'll know when I see it," mindset. That's the problem I had with my shoes.
Sigh. So that's where I am so far. Hopefully Tim Gunn would be proud. I just wish he were here to give me some pointers!
Labels: Accessories, earrings, handbag, Miss JeffMemorial, Shoes, Tim Gunn