The Dress, Miss JeffMemorial Style -- Just Add Drama!
So, I've had quite a road with my dress. Let me just say that I am notorious for changing my mind a million times, and it was the same when it came to The Dress. I mean, c'mon! It's the dress that requires capitalization; I was going to be choosy!
After months and months of me saying, "Oh, yes! That! No wait! No, no not that one. Oh, how about this one? This is absolutely THE one. Hrm, no... I have changed my mind. It's hideous," I found The Dress.
Gorgeous, right? I felt like such a lucky gal. I'm six feet tall and busty, and I was able to buy this number OFF. THE. RACK. No alterations were going to be needed except the bustle. I was over the moon because, due to my aforementioned tall-ness and busty-ness, I assumed that I would not only be budgeting for a dress but also alterations.
Mr. JeffM and I patted ourselves on the back and walked out of the David's Bridal in Springfield, Virginia (really nice people, by the way), poofy dress bag in tow.
When we got home, we were faced with something we had forgotten about completely...
Meet Horatio and Clover. Fluffy puppies of doom. Adorable, yes. (I mean have you seen those ears?!) But they are also diabolical little pooch muffins who can (and do) get into EVERYTHING. We knew that we had to store the dress somewhere else.
The obvious answer was my mother. She lives nearby in Virginia and is pet-free. I thought my dress would be safe!
I thought wrong.
Let me ask you a question. Do any of you have that one family member who can't seem to keep it together? You know what I'm talking about... everyone else in the family seems perfectly fine, but this one person is just, well, crazy. They either drink, or don't have a job, or are certifiable. Sometimes they're all three, and that's what I like to call the Crazy Pinata or the Trifecta of Doom.
Well, the Crazy Pinata in our family is my mother. I say that rather glibly, but it's actually rather sad. The only problem is that all of your sadness and sympathy tends to fall away fairly quickly, as she has gotten very good and making people angry.
Case in point: my wedding dress.
To make an already long story short, she threw out my wedding dress. She got angry with me and threw out my wedding dress. Why she was angry? I couldn't tell you. I think it had something to do with her not being invited to another wedding, or me not calling her every day, but it's rather moot because...
...she threw out my wedding dress. And she was proud of it.
This sent me into a spiraling depression about the wedding. I didn't want to plan anything. I didn't want to look at dresses. I was beside myself with oppressive sadness.
A few months past. I gradually started to snap out of it, but only out of necessity. Our May 2, 2010 wedding date was quickly approaching and I had not done anything in months. Oh yea, and our save the dates needed to go out.
So with the gusto and motivation of a grumpy snail, I began planning again. It soon came to pass that, as much as I didn't want to, I needed to start looking at dresses. Again. I was still feeling very reactionary toward the whole dress replacement dilemma. I thought about outright replacing the dress with the exact same one, but every time I looked at a picture of it, I got upset. I soon realized that simply buying the same one over again wasn't going to cut it.
I thought about my options, and I noticed that almost all the white and ivory dresses started running together. I felt a bit overwhelmed. I wanted something that was ME, and that didn't necessarily mean BRIDAL. We had already scrapped our plans for a standard wedding and instead opted for a unique and fun wedding venue (which is another blog for another time!), I thought why not just start going with my gut instead of what I think I should have.
This meant no white. No ivory. No champagne. No off white. No cream.
For a few months I stalked websites and designers, trying to find something for me. I have very particular tastes. This couldn't just be any dress. Then I thought I had found it. It was beautiful. It had pleats. It was in my price range. It was divine. I thought to myself, "Yes, Miss JeffMemorial,
this is the dress
!" True to form, it still took me another month to actually ORDER the dress, but I did it! Two days ago.
And then... tragedy struck. Again. This time, in the form of an email.
"The designer will not put extra length on this dress, please advise if you want to proceed with your order."
I'm not going to lie... I kind of flipped out a bit. It apparently was the only dress they won't add length to, and, because of my height, the dress was ONE INCH TOO SHORT.
What made it worse was that I had THREE hours to find a replacement dress and order that instead. I was set on the designer, and if I didn't get it in that day, I wasn't going to have my dress in time for the wedding.
What's funny is that, after this whole mess, I ended up with a better dress. A dress that I had looked at briefly, but said no to. Upon further inspection, however, I realized that I had passed over it too quickly, and that it actually was exactly what I was looking for. Dramatic. One shoulder. Classic, but different.
So without further ado, I present to you my dress...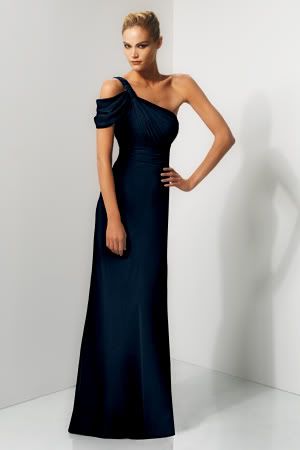 This dress is actually featured as a wedding gown, as well. While I'm getting it in navy blue (as shown above), I'll show you the white version also, so you can see the detailing...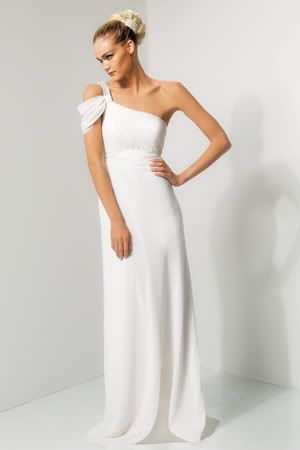 So there you have it. Miss JeffMemorial has a dress. Finally. Oh yea, and her name is Stella. She'll be in my little hands on March 19th.
Labels: bridal dress decisions, family drama, Miss JeffMemorial, wedding drama, Wedding Dress