Our Save the Dates
I envy those brides who are DIY queens. The only DIY project I'm good at is opening a bottle of wine myself and pouring it into a glass myself. (Although I will be doing our wedding cake, but shhh, yet another blog post for yet another time!) When it comes to crafty projects, I am a failure. I am a good gopher. When my friend and Matron of Honor, Mrs. Gallery Place, got married, I helped her with some crafty projects like her CD favors. It was a lot of fun! Left to my own devices, however, I prefer to outsource.
Seriously, my superior MS Paint Skills in no way qualify me to design anything. I'm great at telling people what I want and letting them make my ideas pretty for me, but otherwise I'm a lost cause. So, just like any bride with an internet connection, I know about
Etsy
. (If you don't, for shame! And you call yourself a bride!)
What I love about Etsy is that... well, what isn't there to love? Independent crafters and designers selling their wares. Each piece is unique. I remember before I learned about the joys of Etsy, I would drag myself through websites like Invitation Consultants and still feeling unhappy. While they had great invitations, it all felt cold, sterile, and completely unoriginal. And I am not cold, sterile, or unoriginal. I'd like to think of myself as warm, interesting and bold! (Most would just call me quirky or eccentric, but I like my descriptors better.)
After searching and searching, Mr. JeffM and I finally found a design that suited us, and that was no easy task. Mr. JeffM and I are both very opinionated people, and I'm one of the lucky gals whose guy is actually interested in what goes on with wedding planning! I mean it that I feel lucky... but it can present a few challenges. For example, there were a few times that I found gorgeous unique designs on Etsy. I would lust after them, and wait impatiently for Mr. JeffMemorial to arrive home. He would give them a glance and quickly say, "Nope, don't like it."
But then one design came along. When I saw it, I might have swooned just a tad. Just like the other times, I braced myself for disappointment, thinking Mr. JeffM wouldn't like it. So he came home, looked at it, but instead of dismissing it, he said,
"Hrm, let me see it on our colors."
I got a proof in our colors. He loved it. And now that we have sent out the Save the Dates and everyone has received them, I can share it with you: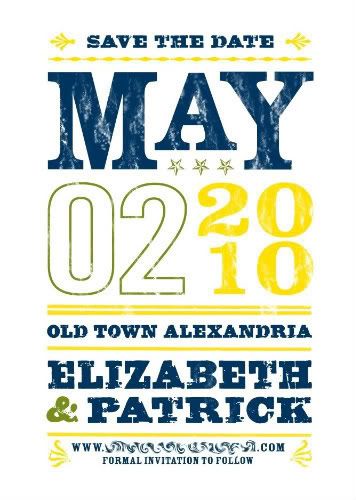 They just looked way too fun. And what's even nicer is how I can see them hanging up in the cubes of some of my coworkers.
Our invitations will be in next week, and it's a shame it'll be awhile before I can share them with you. They're just tops though.
Labels: etsy, Miss JeffMemorial, Save the Dates