Virginia Is For Lovers
When the Mister and I thought about where we wanted to go on our honeymoon, we wanted something laid back. We wanted something local because one of our favorite things to do is to road trip together. Some of our most favorite memories is just riding together in the car, listening to music, singing terribly at the top of our lungs, and laughing together. And since we all know Virginia is for lovers, we had a whole state at our disposal.
It took some time to figure out what we wanted to do. Did we want to rent a cabin in the mountains? Did we want to go to the beach? Nothing was jumping out at us at first. Then!

Source.
A light bulb went off in my head! When I was growing up, I was blessed enough to spend Thanksgiving, parts of the Christmas holidays, and so many other times of year in a unique and beautiful place because of family who happened to live in the area.
I tossed the idea around in my head before going to the Mister with it. I wanted to make sure it was a solid idea. I mean, I had been there as a kid and a teenager, but never as an adult. Was it going to be perfect for our first vacation as husband and wife?
All the little excited wedding cheerleaders in my brain cried, "Yes, yes!" So I went to the Mister with the idea…

Source.
Colonial Williamsburg!
I know, I know. I can here some of you guys from all the way over here going, "What?! That's a field trip! Not a honeymoon!"
I beg to differ. Between the candle-lit night tours, the romantic colonial dinners, and the spa (yes, a SPA!), I was sold. Best of all, the Mister loved it! Oh, and I did I mention how romantically wonderful our room is? We are staying at a bed and breakfast in the historic district where we get to pick our room! You see, each room has a theme and is uniquely decorated. And our room is stunning.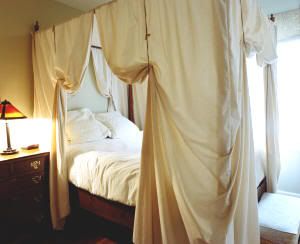 Source.
I can already see myself rolling out of that gorgeous canopy bed and drawing a bath before heading out to dinner with my future husband!
I love that it's a place we can go back to for our anniversaries or other romantic getaways. I think it's neat to realize that sometimes the perfect honeymoon might be in your own backyard. The day after our wedding, instead of braving airports and security lines, we'll be packing up the car, pumping the stereo, and letting that gorgeous sunshine (please, weather gods?) stream through our windows, as we head south!
Labels: Colonial Williamsburg, honeymoon, Miss JeffMemorial