So Many Shoes, So Little Time
I too have been going down the checklist of things To Do. Everytime I get one more done, I feel relieved, until I realize how much MORE still remains.
As you know, I picked
my ivory Melissa Sweet gown
and
chocolate brown Amsale floor length gowns for my maids
(It still makes me feel strange when I call them that!) I have also reserved the reception space and the church, which I was THRILLED about. The Pastor has given us the green light. And just a couple of days ago I met with the florist. I decided on crisp white and green.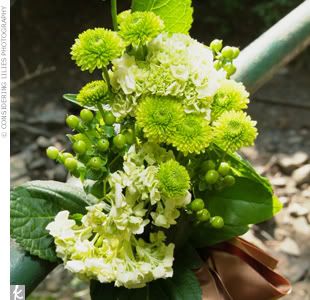 I adore the yoko ono mums. I chose for myself a bouquet of mini white callas, white stock, yoko ono mums and hypernicum berries, and for my maids (there I go again) bouquets of white stock, yoko ono mums and white dutch roses which I never thought I'd like (being rose averse as I am) but which comes together so nicely. I wish I had pictures of everything!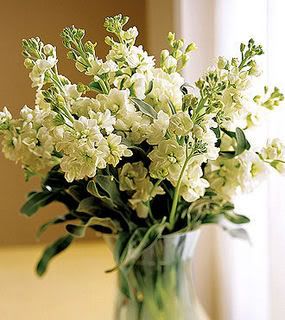 My flower girl (my precious step-daughter) will be carrying something similar to the maids with a single ivory Gerbera daisy to little-girl it up. She is seven years old and nearly my height. I must do all I can to draw the age distinction!
Next on the list is to find SHOES which has been an impossible feat (no pun intended, though I'm afraid it's too late to redeem myself on that one!).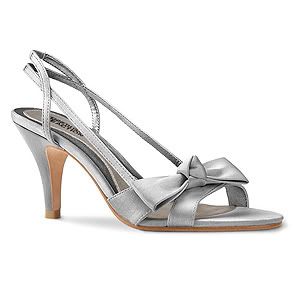 I have tried on 928908539 pairs of shoes and not found a SINGLE pair that even comes close to being comfortable. I need ALL the height I can get at 4 foot 10 and a 1/2! But I have a bad back and don't want to be crippled on my honeymoon come August! So, I believe I'll be heading to My Glass Slipper in Old Town today to the bridal shoe mecca. Just the thought of a whole store full of white shoes is enough to give me anxiety. I shutter when the Nordstrom's or Macy's salesman approaches me with a stack of boxes that could take till next Christmas to get through. I always have the nagging urge to run away while they are in the back room collecting more! My eyes are bigger than my desire to cram my feet into 800 pairs of shoes. And my feet hurt!
Tomorrow M and I will pick out his tux and the grooms men's tuxes. That should be fun. M is 6 foot 5. This may present a photographing challenge but I'm not too concerned. I just hope that they can find sleeves long enough to cover his arms and pants that will fit those long legs. I feel like a kid with a crush!
After that is deciding if I will wear a veil with my ultra-modern gown, finding a cake, buying a corset (even though I'm told I don't need one) and making up my mind whether we should really spend 300 dollars to have a limo when the church and reception hall are SIX minutes away from each other and ten minutes away from my apartment.
Any insights??