Final Decisions but More to Make
So after leaning towards
black, short, bubble-hemmed gowns, with strappy-shoes
, and then being pulled back into reality by the objections of my sister (one of my maids) who was repulsed by my selection of black, I decided to go ahead and try the gown on myself. I've always had a rule that I would NEVER ask my maids to wear a gown that I would not wear myself. Given that all but one of my maids is short like me, I had to laugh when I saw how terrible this gown looked on a small short frame. I know I am ridiculously short but this was ridiculous…even on my tippiest toes. No amount of pinning could have convinced me that this dress would ever work or pass muster with my girls. I could hear my sisters now telling me how much it looked like a curtain… and it was heavy… more like a comforter. I just imagined my sisters sweltering in the August swamp that is DC and realized that I had averted disaster by seeing the dress in person. It never ceases to amaze me how different bridesmaids gowns look in person as opposed to on the computer. Which is why I was so pleasantly surprised when I discovered this Amsale gown was far more beautiful in person and on than online. And so I made my final decision. We are back to chocolate brown!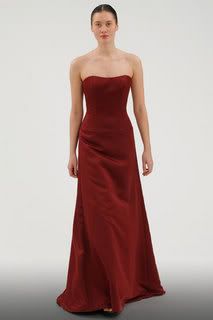 My maids will wear this gown (with a slightly higher neck, but identical in every way) in chocolate brown satin.
It is VERY lightweight and looks gorgeous on... even someone short like me. It has a slight train which my maids are happy about and has a dropped waist like
my gown
... so all is well in the world.
Fortunately, M and I were also able to find the perfect gown to compliment this choice for his daughter.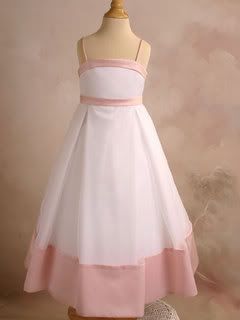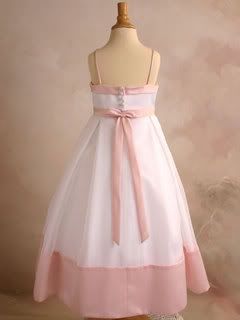 My step-daughter absolutely ADORES the gown and spent a good twenty minutes spinning and jumping and dancing like a ballerina around Hannelores. Fortunately, the women there were much nicer than those I encountered during my first experience there a year or so ago. (Yes, I have been planning for a WHILE now ☺) So we'll be ordering this gown in ivory and then have an Amsale chocolate brown sash made to match the bridesmaids. Unfortunately, the brown that is available through this company (LadyBug) is very different from the deep chocolate brown... so hopefully this will work out OK.
In the meantime, we just signed our contract for the reception location! So, I could not be happier… it is all coming together. Now we just need to find a church, a DJ, a florist, a limo company, tuxedos, a veil, jewelry, shoes, and a place to honeymoon. With only 3 months to go, I'm feeling a bit overwhelmed. Am I in over my head? With 2 more final exams for my 1L year in law school.. I must say that I think I very well may be. As much as the reasonable person might be. Oh well….