Recap: Martha Stewart Weddings at Macy's
So I dragged my sister (and MOH) along with me to the Martha Stewart Weddings event at the Macy's in Tyson's. Honestly? I was pretty bored (the sis dozed off once or twice). I did enjoy Darcy Miller's presentation (she is the tiniest thing), but virtually all of the material was a recap of various Martha Stewart Weddings issues. She did have some cute tidbits about planning her own wedding though, along with some personal pictures.
There was a pretty large crowd, mostly brides-to-be and their mothers; I was pleasantly surprised to see a handful of men, although I was glad I didn't drag out FI since most of the guys had a glazed-over look in their eyes! I must admit, fondant and favors aren't too exciting to the majority of the population.
Wendy Kromer also gave some pointers on the wedding cake process. Darcy was right, Wendy is much too thin for a pastry chef. I like my bakers nice and plump :)
Did I learn anything new? No, not really, although I did score a free copy of the latest Weddings and a $10 Macy's gift card. I also had a chance to browse the home goods collection, since FI and I need to register in the next month or two. The event was basically a promotion for Martha's new line of Wedgewood fine china and a lucky bride won four complete place settings of this: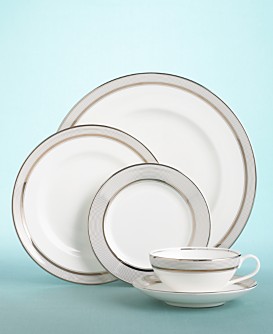 I didn't see any patterns that I'd like to register for though. You can see all of the patterns available only through Macy's
here
.
There was also a display of not-too-interesting cakes, presumably to entice people to buy the MS Wedding Cake book? Darcy and Wendy both stuck around for about 45 minutes to answer questions and sign books, which I thought was a nice touch. Servers walked around with trays of ginger iced tea (yum!) and cake bites. My sister took one bite of the cake and announced that Martha Stewart would
not
be pleased. She was right! The cake was dry and icing sugary-sweet. All in all, not a total waste of time but perhaps I'm expecting too much from the MS Weddings empire? At least I was suitably entertained on the metro this morning with my new magazine :o)
Oh and please excuse my whack photography skills!